Tepoztlán is a unique highland town, situated about an hour's drive south of Mexico City.  Its breathtaking mountain landscape and year-round springlike climate attract a constant stream of weekend tourists from the capital seeking refuge from their urban routines as well foreign residents seeking tranquil rural lifestyles in the Mexican countryside.
Rural living in the remarkable valley of Tepoztlán
The rural colonial enclave of Tepoztlán has been a longtime favorite location for Mexico City dwellers seeking a home in the Mexican countryside, as well foreign residents seeking places off the beaten path.
Situated in the state of Morelos, 75 km (46 miles) south of Mexico City an elevation of 5,380 feet (1,640 meters) above sea-level, the town offers a divine micro-climate with warm spring-like temperatures most days of the year, mild winters, and long daylight hours through the seasons.
Tepoztlán offers foreign residents an opportunity to live in a rural setting, characterized by nature and mountains. Most properties sold here are rural or semi-rural homes featuring extensive gardens and mountain views.
Residents enjoy the natural beauty, the peace and sanguine atmosphere the town is renowned for.  The center of town offers a range of everyday local services and amenities, and the city of Cuernavaca is about a 40 minute drive away; the southern reaches of Mexico City can typically be reached in an hour by road, depending on traffic.
The real estate market in Tepoztlán
Since the 1970s, Tepoztlán has been a favored destination for people living in Mexico City to have a country home and is a place that is especially attractive to bohemians and those seeking alternative lifestyles, and tranquil country living—far removed from the capital's traffic, and yet still close enough for convenience.
Homes for sale here have always traded at a relative premium to those situated in other parts of the state of Morelos, and over the last decade, land and property prices have increased substantially.
Existing homes typically stand on lot sizes of between one and two thousand square meters (10,000-20,000 square feet), and include landscaped gardens, terraces offering attractive views, and some also have swimming pools.
Typically, the smallest lot sizes are 1,000 square meters (c.10,700 square feet) —or sold multiples of this— and although it's possible to acquire smaller plots of land in some places in and around the town, small lots are rarely available.
Discover country homes for sale in Tepoztlán
Our associates represent a range of country homes in Tepoztlán, some of which are showcased below. Prices listed are subject to change without notice and USD prices are approximate based on recent exchange rates.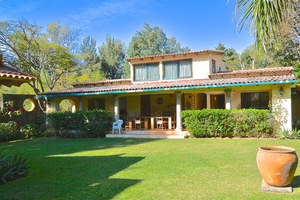 Casa Alegria
Situated in the town's prestigious Valle de Atongo neighborhood; 5 beds, 4.5 baths; pool, landscaped gardens, terraces, fine mountain views.
Price: $14,000,000 Mexican pesos (approx. USD$710,000) 
Contact our associate for details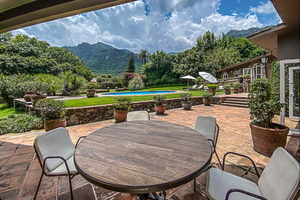 Hacienda Buenaventura
Hacienda property (c.73,000 sq ft) with extensive gardens, 10 beds/10 baths, pool, tennis courts, mature garden and trees, fine mountain views.
Price: $25,000,000 Mexican pesos (approx. USD$1.26 million)
Contact our associate for details

Contact our associate for further details
Our associate will be pleased to talk to you about current opportunities for property purchases in Tepoztlán—simply complete the request form below and they will contact you personally.
Mexico in your inbox
Our free newsletter about Mexico brings you a monthly round-up of recently published stories and opportunities, as well as gems from our archives.